Mystical Magical Caterpillars!
So I finished knitting my Mystical Magical Caterpillar scarf!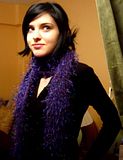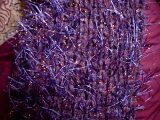 (click thumbnails for larger view)
I lost my other scarf last week, so I've been rather scarfless, which isn't cool for this crazy weather. I'm actually getting over a cold. There's something comforting about catching one... maybe it's the idea of all that chick'n'oodle soop! hehe! OK, I've got twisted logic. ;-)
Taloola on Craftster just finished knitting my Jiffy Tube Top and I'm so proud of her! It looks amazin'!
Link to Thread
Also everyone who decided to make the Gwen-a-be Zim hat did awesome jaw-dropping yobs!
Link to thread
In other news...
I've been watching way too much "Nip/Tuck"... Not just because Julian McMahon is sexy as hell, but plastic surgery is the new gore! I'm convinced!
Apparently, I just realized, I'm on Spring Break. I have the whole week off. You could imagine my suprise... it's gonna be a long one. Editing and getting the last scene for my movie in the can... Once school's over I'm resorting to solo projects. Juggling people's schedules is not exactly my bag, babe.
I also saw this incredible play last Thursday called "Shockheaded Peter"... amazing! Definitely for Dresden Doll, Tim Burton, and Edward Gorey fans alike! For such a low budget production, the costumes were unbelieveable, and the use of puppetry was undeniably ingenious! I never laughed so hard at the theater!
I've also taken up learning German. It's such an angry language, but I love it! I'm actually half German, so I know a little... but mainly just the slang, growing up around my grandmother and all. Driving in traffic with her was no peach... words like "sheisse!" and "arsch-losch!" still resinate in the fondest of my childhood memories! :-P
Right! Back to life as we know it!
~ kkxo