FOs for HOs!
Iggads! How long has it been? I'm so hungover... my head feels like the entire cast of STOMP! is performing on my medulla! Went to this bar with my friend last night... turns out it was gay night. (good for him... not for me! hehe) So after a while, I hoped in a cab and headed over to my usual night spot. Had a most excellent time, but drank way too much! Ugh! Woe is me! hehe

Anyway, back to knitting! Here are some FO's I've been meaning to post:



This is a WIP scarf... can't wait to finish it! I Knit in this blue & copper sparkly funky yarn in with this midnight blue wool! It looks like a mystical magical catipillar! :-P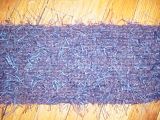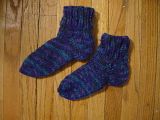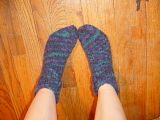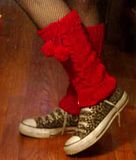 I actually saw someone wearing these and had to knit my own!




I'm in serious need of more yarn! I ordered some from Yarnware over six weeks ago, but they've been backordered.
I finished shooting my film! Huzzah! Now I'm just working on the preview. Once that's done I shall post it. And what's a movie without knitting?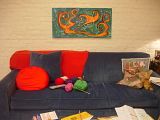 (a still from the set)
;-)
OK... time to pop an aspirin and call it a day!