Such a Gwennabe!
I've come to the conclusion that hats are really fun to make...so without further ado, I give you the Gwennabe Zim hat, inspired by Lisascenic's (from craftster.org) split Gwen Stefani & Liz Zimmerman personality ;-) ... also Gwen's latest Louis Vuitton blue, white n' black corset thing-a-ma-jig she wore.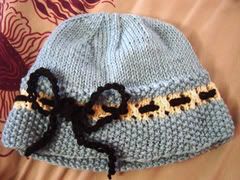 Final thought: To pom-pom, or not to pom pom? That is zee question!

In other news, I transferred classes for the umpteenth time, yesterday! The silkscreen class required me to get an insane amount of materials... so I decided to transfer to an acting class. Apparently I'm one of two students in the entire course... sounds intense, but I'm intrigued!
While I was haunting the school hallways waiting to meet with my advisor, I managed to get swindled into helping my friend shoot his film, booming for sound. That's always a fun job. Great arm workout, I must say. :-)

I was supposed to go to this place Darkroom with my friend last night, but it was too damn cold out. It's too damn cold out today also. I don't have to be anywhere, so I'm content just hibernating for the rest of the afternoon with a mug o' tea and working on a script for my project.